Minnie Evans (American, 1892–1987)
Minnie Jones Evans (American, 1892 – 1987) is recognized as one of the most important visionary folk artists of the twentieth century. Born in NC, at a young age she moved to Wilmington, where she spent most of her life. She created her earliest works in 1935 after hearing a profound voice telling her to "draw or die." After working in domestic service for decades, she began working at Airlie Gardens as a gatekeeper in 1948. From then until 1974, she created hundreds of works of art and sold them to visitors. Her first formal exhibition was at the Artists' Gallery in Wilmington in 1961.
Minnie Evans donated two pieces of her work to St. John's Museum (which later became Cameron Art Museum) in 1970. Mr. and Mrs. Bruce B. Cameron were admirers of her work and donated multiple pieces to Cameron Art Museum's permanent collection later as well.
Minnie Evans' art includes images sometimes repeated in three, eyes, angels, creatures, faces with sealed lips, and flowers. Her work reveals a preoccupation with the divine spark of creation and a fascination with uncovering the physical structure and order of the natural world. Various sources have been cited as possible influences on her work including her strong religious upbringing, her love of mythology, exposure to fine art in homes where she worked, the lush botanical surroundings of Airlie Gardens and her own visionary imagination. "My dreams are in brilliant colors, and I paint the way I remember the dreams."
– Minnie Evans
Minnie Evans (American, 1892–1987)
Untitled (Three faces in floral design), 1967
Wax, crayon, graphite, and oil paint
Collection of Cameron Art Museum
Gift of Mr. and Mrs. Bruce B. Cameron
Claude Howell (American, 1915-1997)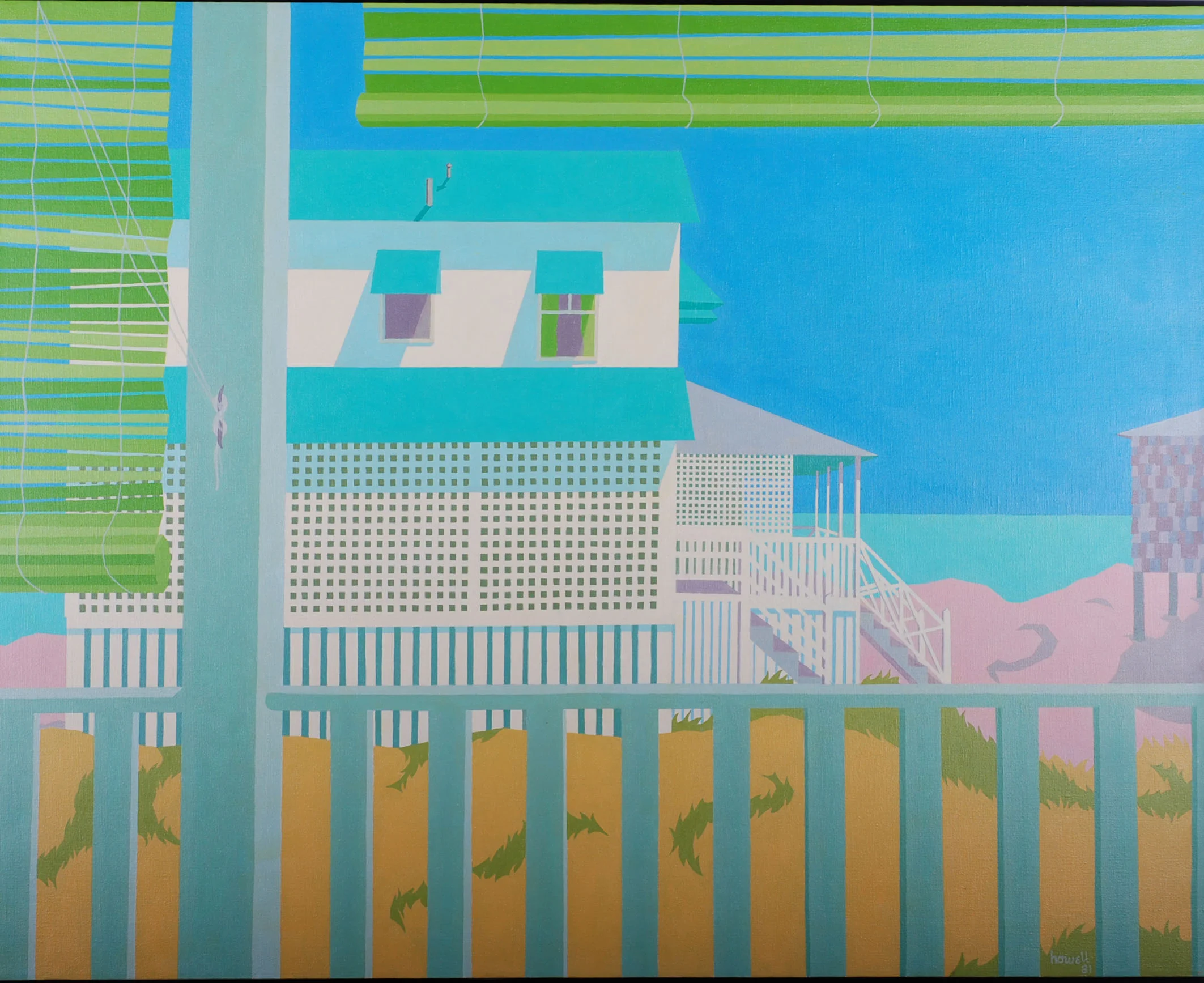 Claude Howell was born in Wilmington. He began his art studies with Elisabeth Chant and Irene Price before graduating from New Hanover High School. He made his first mark as a North Carolina artist when he was accepted in the first Juried N.C. Artists' Show in 1937. Three years later, in this same show, his Winter Landscape won a $200 purchase award from IBM. In 1940, one of his paintings was exhibited at the New York World's Fair and another of Howell's works won the Carnegie Purchase Award in the FWA Watercolor Competition in Washington, D.C.
In 1948, a Rosenwald Fellowship enabled Claude to have a year's study in NYC followed by eighteen months of personal study in Paris. Thus, he began his extensive foreign travels studying the art, history and cultures of the world. Each foreign jaunt generated a vast production of drawings and paintings, not so much in foreign scenes as much as a new awareness of his local scene
Beach Cottage was completed in 1981 and was one of three works that Howell considered to be "most important" in Cameron Art Museum's extensive collection of his works.
"One has to be far removed to begin to see things. Sometimes if you get too involved in living and you paint about it, it is too immediate. I think you have to back off a bit in order to see it. The first I ever saw the United States was in Europe, because then I could see the differences between our life and the life of other people." – Claude Howell
Claude Howell (American, 1915-1997)
Beach Cottage, 1981
Oil on canvas
Gift of the Friends of Claude Howell and St. John's Museum Acquisition funds
Collection of Cameron Art Museum
1981.12
Romare Bearden (American, 1911–1988)
Romare Bearden (1911 – 1988) is considered one of the most important American artists of the 20th century. He was also an author and songwriter. Born in North Carolina in 1911, Bearden spent much of his career in New York City. Virtually self-taught, his early works were realistic images. He later transitioned to abstract and Cubist style paintings in oil and watercolor. He is best known for his photomontage compositions made from torn images of popular magazines and assembled into visually powerful statements on African American life. Influenced by the Civil Rights movement, his work became more representational and socially conscious. Bearden's collage work has also been compared to jazz improvisation. Growing up during the Harlem Renaissance, he was exposed to many of the jazz greats. Duke Ellington was one of his first patrons. Bearden wrote songs for Billie Holiday and Dizzy Gillespie and later designed a record cover for Wynton Marsalis. In his collages, Bearden's images reflect some of the elements of jazz with its interplay among the characters and improvisation of the materials used. His Evening: Off Shelby Road focuses on memory, family and community, and exudes a timelessness.
Romare Bearden (American, 1911–1988)
Evening: Off Shelby Road, 1978
Collage, watercolor, ink and graphite
Collection of Cameron Art Museum
Purchased with Funds from the Claude Howell Endowment for the Purchase of NC Art