The story of Cameron Art Museum has been described as a love story: the love of Bruce Barclay Cameron, Jr. for his late wife Louise, the love of citizens for their community, the story of a group of people bound by their common love of art, the love of friends for one another.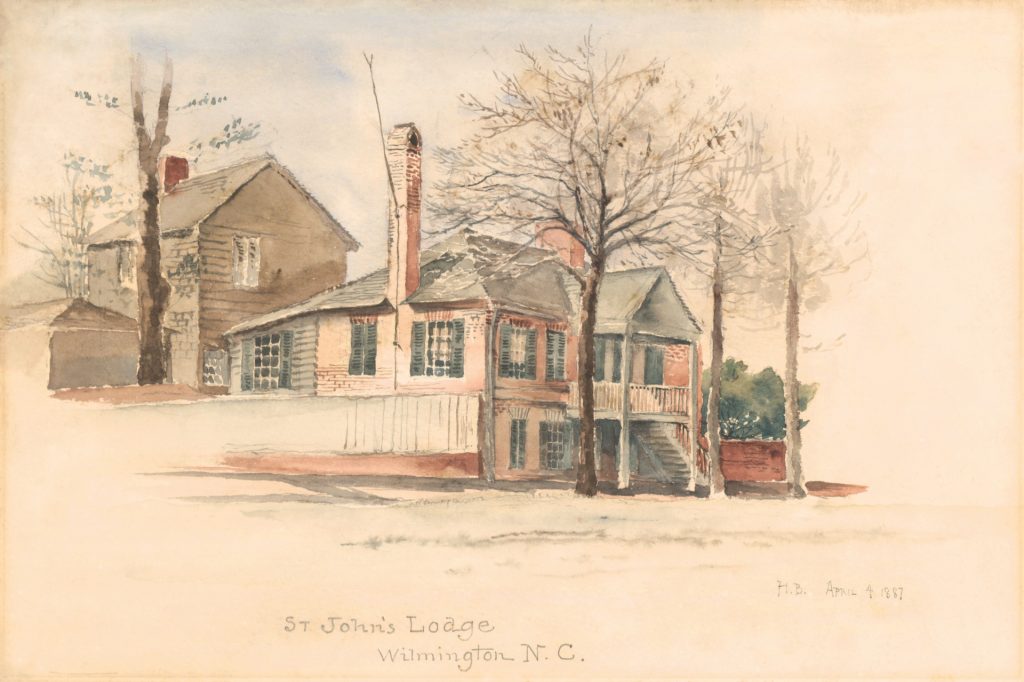 Every story has its beginning and Cameron Art Museum's could start here: Elisabeth Chant, long auburn hair coiled around her head, arrived in Wilmington in late 1922 carrying a trunk of belongings and art supplies. Chant, an eccentric British artist, set up an art studio on Cottage Lane, in the Hart Wine House, where students like Claude Howell and Henry Jay MacMillan took art classes. One young man rode his pony, Rosco, to take her classes. That young man was Bruce Barclay Cameron, Jr. The roots of Cameron Art Museum were laid there on Cottage Lane, among the tang of turpentine and the dust of charcoal.
Chant was passionate about the need for a civic art center and she wrote to the Wilmington Star News on July 17, 1938, "In the life of cities a time comes for cultural development.  The drama, music, art, each in turn filling a place in the civic fabric. A movement has been launched to give Wilmington a civic art center with a museum and gallery. It will mean: Wider horizons for the young. New interests for the mature. For visitors and tourists, a place of intellectual enjoyment . . . . . Next to its educational importance an authoritative museum center is badly needed in Wilmington to conserve the aesthetic values of this city. . . .  In no other way will it be done." Chant was part of a group of citizens that founded the Wilmington Museum of Art, which was open from 1938-1942. The museum closed because of World War II and rising property costs, but its brief existence and the 126,213 visitors and 71 exhibitions reminded the community what was possible. Chant stayed in Wilmington, teaching and painting, until her death in 1947. She is buried in Oakdale Cemetery.
Forty years after Chant's arrival, at least three of her students and colleagues, Claude Howell, Hester Donnelly, and Peggy Hall, were part of the community movement that founded St. John's Art Gallery in the oldest Masonic Lodge in the state. Claude Howell, who was then chair of the University of North Carolina Wilmington art department, wrote in a letter to the editor of the Wilmington Star News on January 28, 1962, "…we need to see and hear the best that is being done in the world today.  We need to raise our standards in the visual arts by showing the best art of the past, as well as what is being produced today. The best way in which this can be done is for Wilmington to establish a community gallery or museum, not so much for the purpose of buying a permanent collection, but for the express purpose of exhibiting traveling shows of first rate painting and sculpture. . . . Only by becoming familiar with the best can we hope to improve our level of appreciation." 
Hall became St. John's first paid director in 1964. In that very first year St. John's presented 24 exhibitions, 15 preview receptions, 11 lectures, 7 chamber music programs, and 1 trip to the North Carolina Museum of Art. Attendance in the 4,705 square foot building in downtown Wilmington reached 12,000 people in the first year, with visitors from 10 foreign countries and 181 different cities in North Carolina. St. John's opened with an exhibition by contemporary realist Francis Speight, who had been born in Bertie County and taught at East Carolina University. The museum's core values, which remain over 60 years later, were evident from the beginning: commitment to community, to lifelong learning in the arts, to support of artists, and to collecting, preserving, documenting, and interpreting a permanent collection of art. 
In 1997, the community of St. John's found itself at a crossroads – it had outgrown the cluster of historic buildings in downtown Wilmington and now started a capital campaign to build a new modern art museum. At the helm of the museum was C. Reynolds "Ren" Brown, a director who saw the new museum not only as a community museum, but as a statewide resource. Charles Gwathmey, a New York architect who spent the first 18 summers of his life at Wrightsville Beach and who had been a lifelong friend of Claude Howell was chosen as the architect for the new museum. Claude Howell credited Gwathmey's father, artist Robert Gwathmey, as one of his major influences. One of Gwathmey's most noted achievements was the renovation and addition to the Solomon R. Guggenheim Museum in New York.
Bruce Barclay Cameron, Jr., one of the great civic leaders at the time, made a lasting impact on the arts community in Wilmington, by donating $4.5 million to help build a new art museum, inspired by his late wife Louise's love of St. John's, where she volunteered for 35 years. The children of Bruce Barclay Cameron, Jr. offered 9+ acres of land to the museum, located at the corner of S. 17th and Independence Avenue, with a provision that Civil War Historic site and long-leaf pine trees on the site be preserved. The museum was named Louise Wells Cameron Art Museum in her memory. As Cameron said to the Star News in 2002, "When Louise, my wife, died… I wanted to do something in her memory. She loved St. John's so much."
In 2002 the museum moved to South 17th Street and became Louise Wells Cameron Art Museum. A year later, Walter and Beth Pancoe made the single largest gift to a new auxiliary building for art classes, and the Pancoe Arts Education Center, now home of the Museum School, was established.
In 2017, Louis Belden bequeathed his art collection, the gift of his lifetime, to the CAM community. This unprecedented gifts of 136 works by 54 artists elevated CAM's collection and included American and European artists Josef Albers, Marc Chagall, Alexander Calder, Judy Chicago, Helen Frankenthaler, Jasper Johns, Ellsworth Kelly, Pablo Picasso, and Robert Rauchenberg. These works offer a range of expressionism, experimentalism, and expansion of the terrain of postwar modernism and post-modernism. Belden, who lived in New York and San Francisco as an adult, had grown up in Indiana, but he spent his summers in Wilmington, where he met Sam Hughes and the Cameron family. Although he frequented major art museums in San Francisco, Belden wanted to give his collection to a museum where he knew it would truly make a difference. Belden was a serious collector, dedicated to not only to acquiring an exceptional collection, but also to growing and challenging himself as a collector.
Over the last decade, the museum continued to thrive. Without regular city, state, or federal funding, the community created an art museum that has lasted for over 60 years and that has become one of the most respected cultural resources in the state. CAM's collection has expanded to include diverse contemporary artists with North Carolina ties that also contribute to the growing understanding of American art to include Romare Bearden, Beverly Buchanan, Beverly McIver, Lien Truong, Michele Tejuola Turner, and Burk Uzzle. The collection, which started in 1964, with a work by Jacob Marling, now stands at 4,400 works, with a growing focus on modern art.
In 2021, CAM installed a public sculpture, Boundless, by North Carolina artist Stephen Hayes, a work of art that connects deeply to the land the museum is steward of by telling the story of the brave United States Colored Troops soldiers who fought on this land for their own freedom and the freedom of their loved ones.   
Cameron Art Museum continues to show the truth in what collector Louis Belden fervently believed and practiced, "Art is not stagnant. It grows and grows. To learn, you work at it with your eyes and your mind. And your heart."
Sign up for our newsletter to receive updates on events, exhibitions, and more!